Revisiting Never Land: Celebrating 65 Years of Peter Pan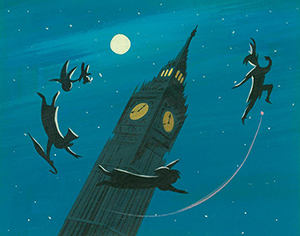 "The second star to the right and straight on till morning!" Peter Pan exclaims, pointing toward Never Land in a sky full of stars. Delighted, the Darling children soar out their bedroom window, flying along with Peter over the city of London and pausing to rest on the hands of Big Ben.

The iconic scene is just one of many from Walt Disney's 1953 adaptation of Peter Pan. Walt first became acquainted with Scottish playwright J.M. Barrie's story about the boy who did not want to grow up when watching a touring company's production of the famous play forty years prior. Walt remembered the tale and kept it in his back pocket until 1939 when he acquired the rights to embark on his own version of Never Land.


Production began on Peter Pan with the work of British artist David Hall who created exploratory storyboards. Like many budding projects at The Walt Disney Studios in the early 1940s, production halted when World War II struck. The film gained its artistic footing again some years after the war when color stylist Mary Blair touched Never Land with her imaginative palette and dramatic lighting. Her fingerprints can be seen in the settings of the mermaid lagoon, skull rock, and Captain Hook's golden ship as it flies through the night sky. Blair contributed her unique style to previous films and shorts including Cinderella (1950) and Alice in Wonderland (1951). Peter Pan would be her last feature film, though not her last mark on The Walt Disney Company. In the mid-1960s Blair would return to design the concept for the attraction "it's a small world."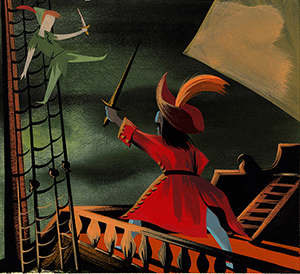 The animation medium was a perfect pairing to Barrie's imaginative story. As Walt stated, "The cartoon method gave us many advantages over the stage craft of Barrie's day which no amount of pixie dust could cure." Many necessary traditions had formed from stage productions of Peter Pan. With the animators, free from the strings required for a stage production, the artists could reinvent and further develop several characters. Traditionally a female actress had portrayed Peter on stage; Walt's depiction marks the first time Peter is played by a boy, with Disney actor Bobby Driscoll supplying the voice. The presentation of Tinker Bell was also altered. Represented only by a shining light on the stage, in the film Tinker Bell was designed as a female sprite brought to life by animator Marc Davis. The nursery maid dog, Nana, and the panic-inducing crocodile, previously represented through costumes and props, became characters with developed personalities in the animation realm. These added dimensions brought previously unachieved humor, charm, warmth, and a deeper connection to the characters and the story. This was an important project for Walt. He was committed to making Peter Pan and refused to shelve it, even though Roy wasn't keen on the project. Walt told animation critic John Culhane it was vital "to get a very definite personality in Peter Pan." He said, "Who is he? What does he want? How does he walk? Can we make him fly?" Disney animation artist and producer Joe Hale would later recall a sweatbox screening with Walt watching Peter Pan work reels. "He was sitting over in a folding chair, and there was a kind of light, and I could see him in the light. He was lip-synching every word on screen. He knew every word that every character said, and he wasn't doing it out loud. It was just as he was looking at the screen, I could see his mouth. He knew every single word for every character. I couldn't believe it."

As the opening words of the film remind us "All this has happened before, and it will all happen again." The legacy of Peter Pan lives on and Never Land remains the keeper of childhood imagination we all wish to revisit. Peter Pan teaches us many life lessons: to keep us thinking wonderful thoughts and to never smile at a crocodile, but perhaps most important of all is to keep your child-like wonderment alive and your imagination active. It is a lesson Walt Disney knew well.
---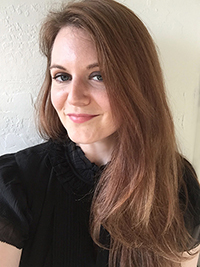 Jenna Benton
Guest Experience Associate at The Walt Disney Family Museum
Discussion