Celebrating Ed Wynn: Walt Disney's Partner in Laughter
Even if you don't immediately recognize the name Ed Wynn, you are most likely familiar with his work. You may know him best as the quivering voice of the Mad Hatter from Walt Disney's animated feature Alice in Wonderland (1951) or as the incurably giggly Uncle Albert in the live-action film Mary Poppins (1964). Aficionados of The Twilight Zone television series might remember him as the aging pitchman from the series' second episode "One for the Angels" and as the elderly gentleman afraid that a clock's final tick would spell the end of his life in "Ninety Years Without Slumbering." But before these later moments in film and television, Wynn had an established and respected career as a stage performer. He thrived in vaudevillian comedy, and would always be known for two potentially contradictory traits: a silly voice and a penchant for sight gags. When once offered the starring role in the popular Broadway comedy Harvey, Wynn turned it down, claiming, "If I had to deliver a legitimate line like, 'I don't know where Cora is,' I wouldn't know how to. I'm not an actor, I'm a clown."
Ed Wynn was born Isaiah Edwin Leopold in Philadelphia on November 9, 1886. Reluctantly joining his father in selling women's hats, he craved a more theatrical life and finally achieved this goal when he adopted his stage name (a clever play on his given middle name) and ran off to New York. He got his first big break in 1903 when he teamed up with cabaret singer Jack Lewis to perform a two-man comedy act of their own making called "The Freshman and the Sophomore." Their performance as two comical college kids with a live bulldog launched them as theatrical headliners for years to come. The ensuing decades saw Wynn develop as a sensational comedian in vaudeville and musical-comedy. His performances included The Boy with the Funny Hats, in which he shaped a Panama into multiple different forms, and The Perfect Fool, a melodic revue that Wynn directed, produced, and wrote, including music and lyrics, and even a place in the much coveted vaudeville showcase The Ziegfeld Follies.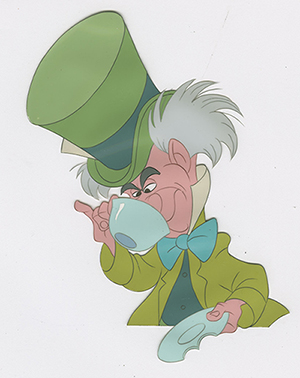 While he would continue to perform, produce, and write for live theater, Wynn lent his versatile voice to the marvel of radio. In 1932, The Fire Chief program launched Wynn to stardom on the airwaves as the eponymous head firefighter. While the listening audience was entertained by orchestral performances and Wynn's verbal jokes, the studio audience still got to see Wynn riding around on a toy fire engine or running offstage for quick costume changes. It was this ability to perform for physically-present spectators that helped Wynn transition to the much more unfamiliar territory of radio. He even tried to create his own radio station, the Amalgamated Broadcasting System, to capitalize on the success of this new industry, but unfortunately the station did not prove viable enough to stay on the air.
The 1940s and 1950s saw Wynn exploring television, a medium that involved elements of both theater and radio. The Ed Wynn Show, a variety program that debuted in 1949, brought the man's vaudevillian showmanship to a whole new generation, and frequently included comedic guest stars of the period such as Lucille Ball, and even the famous jazz band comprised of Disney artists and animators, the Firehouse Five Plus Two. Wynn won one of the earliest Emmys ever awarded, serving as a testament to his decades of service to entertainment. He had spent most of that time making people laugh, and by the early 1950s he would begin to take on some of his most iconic roles.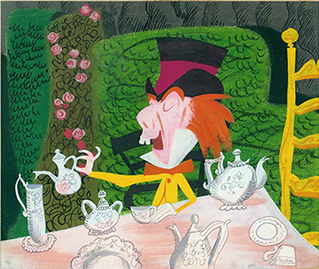 Ed Wynn seemed a natural addition to Walt Disney's cast of characters. Walt had been a fan of vaudeville himself, having appeared in amateur performances as a youth in Kansas City alongside his friend Walt Pfeiffer under the title "The Two Walts." Wynn himself had appeared as one of the many caricatured celebrities in the Mickey Mouse cartoon, Mickey's Gala Premiere (1933). The entertainment partnership of Walt Disney and Ed Wynn began with Alice in Wonderland (1951). Wynn performed the live-action reference footage for the Mad Hatter character, allowing him to work with props and costumes as animators translated his antics to those of the animated Hatter. The high-pitched, wavering voice he provided, along with an inspirational physical performance as live-action reference for the animators, sealed the character's popular longevity in the Disney canon.
Later collaborations with Disney would give Wynn live-action parts. In 1961, he took on the role of the whimsical Toymaker in Babes in Toyland. That same year, he appeared in The Absent-Minded Professor with both his son Keenan and his grandson Ned. He played the character of the Fire Chief, an appropriate nod to those who enjoyed listening to his Fire Chief radio persona years beforehand. The three generations of Wynns came together again for the sequel Son of Flubber (1963). The eldest Wynn aided Walt in his television projects as well, appearing in multiple episodes of Walt Disney's Wonderful World of Color, including a 1962 episode directed by Ron Miller, "The Golden Horseshoe Revue," in which he had the opportunity to reprise some of his vaudeville shticks, including The Boy with the Funny Hats. In 1964, Wynn would appear in perhaps his most famous Disney role: Uncle Albert in Mary Poppins. Here he played the loveable man who could not control his laughter, which caused him to levitate up to the ceiling. Wynn was the natural, indelible choice for the beloved character from P.L. Travers' novel. He appeared so at ease twisting and turning in the air, light as a feather, and consequently made many other people feel that same sense of levity, both in the film and in the audience.
Of the many talents who regularly appeared in and contributed to Walt's productions, there were few whom he admired more than Ed Wynn. Walt must have seen a little of himself in Wynn's style and sensibility. The visionary creator had once dreamed of being an actor when he was a boy, and perhaps there was still a part of him that envied Wynn's lauded career from vaudeville to the screen. As Walt would say, "I am interested in entertaining people, in bringing pleasure, particularly laughter, to others…" And for over 60 years, few were more accomplished at bringing an audience to laughter than Ed Wynn.
Ed Wynn passed away in June of 1966, nearly six months to the day before Walt Disney passed in December. "Wynn's granddaughter later recalled that Walt attended Wynn's funeral, a gesture of ultimate respect for his fellow showman. The two shared a wonderful professional friendship, a memento of which was on display in Walt's working office on the Burbank studio lot in the form of a black and white portrait of Wynn. Resting beneath a giant map of Disneyland that laid out the future expansion of the park, Wynn's portrait (taken by Dave Iwerks, son of Ub Iwerks) remained in its place until Walt himself had passed." Seeing the picture on a daily basis must have certainly brought a smile, and most definitely a laugh, to Walt's mind.
---
This article was co-written by the museum's Guest Operations Trainer, Tyler Fahr, and historian Lucas O. Seastrom. The two became friends whilst serving as museum volunteers, and together helped produce the popular "Ghost Host Gallery Tours" in October 2014.
Discussion